Is dentistry always included in VHI, how to get dentist services for free, what are the features of corporate programs, how is a policy issued with the option of dental care
When purchasing additional medical insurance, everyone wants to be able to use the services of specialists of various profiles.
Many people ask if dentistry is included in VHI, what services and procedures are included in the insurance. Further we will dwell on this topic in more detail.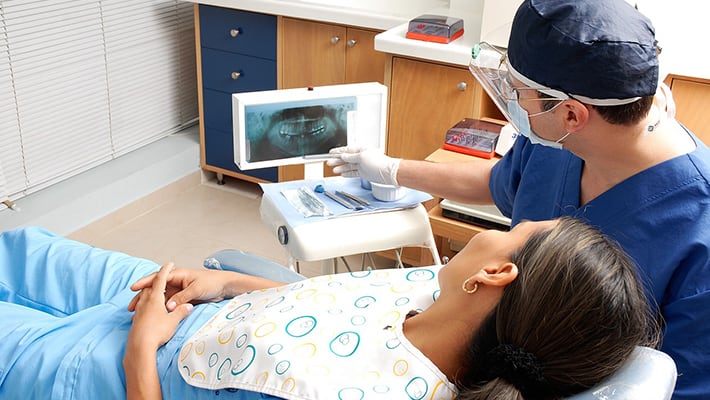 What VHI dentistry includes
The voluntary medical insurance contract with dental services is concluded in two ways:
a person draws up a policy personally for himself,
an employee of the company becomes a member of one of the corporate insurance programs.
As a rule, dentistry is not included in the VHI policy. However, the policyholder can add it to the basic program.
If the client has expressed a desire to include this item in his insurance, he can count on receiving the following services:
examination of the oral cavity, diagnosis;
X-ray, other examinations necessary to confirm the diagnosis;
therapeutic treatment, including analgesia, removal of nerves, placement of fillings, etc .;
surgical manipulations (tooth extraction, treatment of foci of inflammation, etc.);
treatment of gums, oral mucosa, maxillofacial nerves, salivary glands;
aesthetic therapy: removal of plaque, tartar, coating with fluorine-containing varnish, installation of veneers;
emergency care in the clinic is provided around the clock.
This is a standard set of services that do not include prosthetics and implantation. Insurers usually do not offer these options.
If you are just going to renew your prostheses or put new implants at the expense of insurance, then carefully read the terms of the contract and look for the company that offers DMS in dentistry with prosthetics.
An exception may be the case with maxillofacial trauma, where prosthetics is a vital necessity.
If the tooth collapsed due to natural reasons, for example, from caries or due to age-related changes, then the implantation will be performed at the patient's expense.
What is not included in insurance
By concluding a VHI agreement with dentistry, policyholders do not always carefully read its terms. Meanwhile, it clearly spells out additional medical services that do not fall under the coverage of the policy. It:
enamel whitening;
inlay;
enamel restoration;
coating of teeth with protective compounds;
replacement of a seal for prophylaxis or for aesthetic reasons;
implantation;
prosthetics;
orthodontics (alignment of teeth, correction of occlusion, etc.).
All of the above is more cosmetic procedures, therefore, medical insurance is not covered.
Corporate Insurance
Corporate insurance programs are often quite economical and offer a limited number of options. Many organizations do not include dentistry in the policy at all, so as not to pay more.
However, large corporations can afford extended corporate insurance, where dental services are still included.
Corporate insurance has the following features that you should be aware of :
Inconvenient location of clinics . It must be remembered that the insured person can not use the assistance of the dentist everywhere, but only in individual medical institutions. Most likely, you will have to go to the doctor to the other end of the city, which is not always convenient.
Limit of visits. Many corporate programs have limitations. For example, you can cure only 1-2 teeth for a year for free, and you will pay for other visits and services yourself. Although often such customers receive a discount.
Limit the number of patients . Some contracts specify the specific number of free customers per year. If your colleagues managed to heal their teeth for free and the patient limit for the insurance contract has already been exhausted, then you and subsequent employees of the company will have to be treated for a fee until the end of the year.
Low quality of service . In order to save money, the employer can choose a simpler clinic. This means that the treatment will use the cheapest and low-grade materials. It often happens that free clients are served by trainees and inexperienced novice doctors.
Make an appointment. Make an appointment with the doctor in advance. However, this will only save your time and avoid waiting in a live queue.
In general, corporate insurance with additional dental services is the best option for the insured person.
It allows you to get better medical care than you can count on with a compulsory medical insurance policy. In addition, it significantly saves money, since treatment with a paid doctor at your own expense can greatly shake your budget.
When drawing up a voluntary medical insurance contract, it is important to clearly understand the conditions that your insurer sets.
Subsequently, you may encounter unforeseen circumstances that will turn against you. Here are some of the pitfalls you might expect:
Service in only one clinic. Upon receipt of the policy, you must choose the institution where you will be treated all year. You will not be able to change it if there is a corresponding condition in the contract.
The lack of specialists of a narrow profile. Insurance conditions provide for general dental care. You will not be able to consult with an orthodontist, prosthetist for free, and even many diagnostic examinations will have to be done at your own expense.
The presence of a franchise . If your insurance includes a deductible, then you must pay this amount on your first visit. However, the insurance premium in this case will be lower.
The presence of chronic diseases . If you have a chronic illness, you may be denied VHI altogether. Attempting to hide this fact from the insurer will not give effect – if it opens, you will have to pay a fine and return all the money that the insurance company paid for you.
Statistics show that insurers are reluctant to conclude individual VHI agreements with additional dental care.
They prefer to work with companies on corporate insurance programs. Therefore, if you want to purchase a policy for yourself, you will have to look for an insurer who offers a similar insurance option to individuals.
One of the best solutions to the problem may be the unification of individuals in groups and the purchase of a unified corporate insurance on the same conditions that are offered to organizations. This makes it easier to find an insurer and you can save.
How much is it
Many insurers do not have standard programs for individuals providing for VHI with the option of free dental services.
For example, SOGAZ and VTB draw up a corporate contract or offer individual insurance conditions in each case.
However, there are companies that offer citizens standard dental programs.
Here are the quotes for some of them :
RESO – 8540 p. ("Standard");
Ingosstrakh – 5448 p. ("Standard");
VSK – 5236 p. ("Standard");
Renaissance – 7926 p. ("Optima");
Rosgosstrakh – 6334 p. ("Basic").
In parentheses are the names of programs that provide for the provision of free dental care.
How is a policy issued?
You can choose one of the companies listed above or search for other options that are advantageous in price and options. To get insurance, do the following:
Choose an insurer, find out about the details and nuances of insurance, the opportunity to receive medical care in the clinic you are interested in, and then leave a request on the company's website or visit its office in person.
You will need your passport and SNILS. You fill out the application at the office or on the website.
Have a medical examination if required by the insurer.
Choose a program that includes dental care and sign the contract.
Pay insurance, get a policy.
All this can be done by an insurance agent or broker for you, but the intermediary will have to pay for the work.
If you agree to an additional payment for mediation, be sure to check the fact of cooperation of this person or organization with the insurer in order to avoid fraud.
You have learned whether dentistry is included in VHI and how to draw up such an agreement that will provide you with free dental care. Read the conditions carefully and do not save on trifles.