A tax deduction for life insurance can be received by an artificially working Russian citizen. Non-working citizens, as well as entrepreneurs whose income is not subject to personal income tax, cannot receive a tax deduction.
Cumulative human life insurance is rapidly gaining popularity in the world, making this type of contract a very convenient alternative or addition to earnings and pensions.
When applying for such a policy in Russia, in some cases you have the right to return 13% of the funds previously spent on income tax.
And how, read below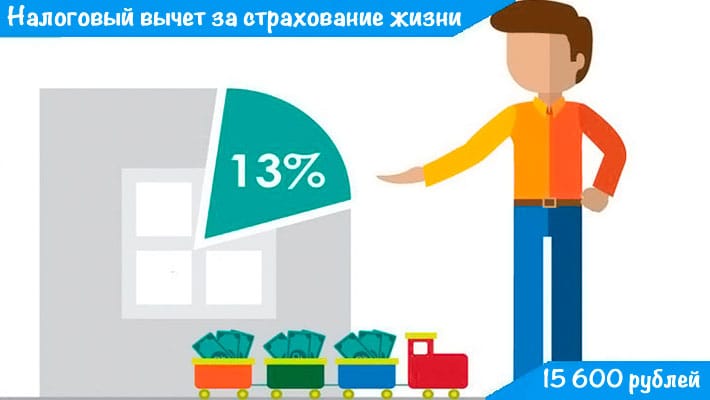 Deduction conditions
The return of money spent earlier on income tax is regulated by the current legislation of the Russian Federation since January 2015. As stated in the Tax Code of the Russian Federation (Article 219), you can return the income tax if you have entered into a life insurance contract for a period of at least 5 years.
You have the right to a deduction if you have insured your own life or the life of loved ones:
Spouses or spouse
Biological or adopted children, as well as persons under guardianship;
Parents
Only a Russian citizen who is a tax resident of the country can receive this payment. It is these conditions that allow a person to return previously paid 13% of personal income tax. Non-working citizens, as well as all entrepreneurs whose incomes are not taxed at a 13 percent rate, will not be able to return the tax.
Payout calculation
The amount of tax to be refunded may not exceed 15,600 rubles.
This figure is 13% of the maximum taxable 120 thousand rubles approved by law.
Tax recalculation is carried out for one calendar year. It follows that a person who has earned a certain amount over the past year will return 13% of these funds back.
As an example, we can imagine a situation where a citizen of the Russian Federation earned 100 thousand rubles in one calendar year, and insurance premiums under a life insurance contract for the same period amounted to 120 thousand. You can return only 13 thousand rubles, even if the amount of insurance premiums exceeded 100 thousand rubles.
Getting money for a combined policy
According to information voiced by the Ministry of Finance of Russia, if a contract is concluded not only for life insurance, but also for accidents and illnesses (a combined contract), then the tax deduction is carried out only on the basis of the sums of life insurance contributions.
A tax deduction is not applied to the relations arising from an accident and illness insurance contract.
When submitting a declaration to the tax office, you will need to attach a certificate in which your contributions will be divided by type of insurance. This certificate can be obtained from your insurance company.
Compensation for contributions made before 2015
Citizens who have drawn up life insurance contracts before the entry into force of amendments to the Tax Code of the Russian Federation are also entitled to a tax deduction.
The terms of payment remain the same for persons who entered into a life insurance contract from 2014 and earlier, provided that the term of the insurance contract is at least 5 years. (Letter of the Federal Tax Service of Russia dated 06.07.2015 N BS-3-11 / 2606 @, Letter of the Ministry of Finance of Russia dated 06.17.2015 N 03-04-05 / 34970).
Credit deduction
When applying for a long-term loan or mortgage, banks set a condition in the form of mandatory life insurance for the borrower. In this case, you will not be able to use the tax deduction , since the financial organization is the interested party (beneficiary).
The necessary package of documents
The legislation establishes the minimum list of documents required to receive a tax deduction.
The tax office must provide:
A completed original declaration in the form of 3-personal income tax (personal income tax).
Passport, as well as copies of all completed pages.
Certificate of income, which can be obtained at work (form 2-NDFL). If there were several jobs during the year, then certificates should be from each of the employers.
A tax refund application stating account details for transfers.
Life insurance contract (certified copy).
Certified copies of receipts or other payment documents confirming payment of insurance premiums.
If necessary, a certificate with the division of contributions by type of insurance
Additionally provided:
when making a tax deduction for a child – a copy of the birth certificate of the child;
when making a tax deduction for spouse – a copy of the marriage certificate;
when applying for a tax deduction for parents – a copy of your birth certificate.
Copies are notarized or personally certified by the payer. Each page of the document is certified.
Accrual and deduction periods
According to subparagraph 4 of paragraph 1 of Article 219 of the Tax Code of the Russian Federation, the right to receive a tax deduction comes from January 1, 2015.
Deductions can be obtained only for those years when insurance premiums were paid.
You can get them next year. For example, if insurance premiums were paid in 2017, then a tax deduction can be made only in 2018.
Verification of the declaration filed with the IFTS takes three months.
Income tax is refunded from two weeks to 1 month.
In some cases, the employer can return the income tax directly. The employer will need to provide a statement endorsed by the service, as well as a notification of the IFTS on the right to receive funds.
In this case, it will be necessary to visit the IFTS at least 2 times. Having returned the income tax, you will make a significant contribution to the family budget.