Insurance experience: what is it, what is the difference from employment, accrual features, minimum experience, main periods, ways of confirmation
The adoption of the new pension law caused a storm of negative emotions and controversy. Those who were planning to retire in the near future are unhappy with the increase in the age threshold.
Those who are still far from this point have a poor idea of ​​a new system for calculating this allowance, but are also pessimistic.
The main criterion that is taken into account when calculating pension payments is insurance experience.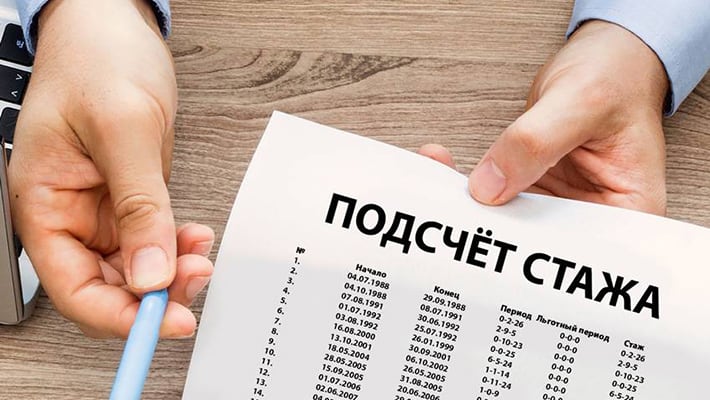 Next, we will analyze what it is, how it is charged, how much a person needs to work out in order to rely on material support in old age.
Insurance experience: basics
The Law on Pensions gives a clear wording of what length of service is insurance. This concept designates the sum of all periods of time when pension contributions were paid.
This includes:
official work in a company, factory or other place,
conducting activities of a different nature (for example, individual entrepreneurship),
other periods equated by law with labor activity.
There is a difference between work and insurance experience: the latter applies to certain periods of a person's life during which he has not worked.
For example, for years devoted to the birth and upbringing of a child, caring for seriously ill and other important matters.
Change in minimum length of service
The existence of a minimum period that a citizen must officially work out and at the same time make pension contributions is an important condition for the subsequent calculation of his pension.
An increase in this period will be made gradually. In 2015, those who worked for only 6 years could receive a pension. By 2025, the minimum will be as much as 15 years.
Until a person earns a minimum insurance period, he will not be able to count on receiving an insurance pension even after reaching the legal age. He can only count on receiving social benefits.
The accrual of a retirement pension is impossible without pension points; they also need to be accumulated during the period of one's labor activity.
According to the adopted law, the minimum coefficient will be increased gradually: annually 2.4 will be added to the current value. Previously, it was 6.6, but by 2025 it will increase to 30.
What can be counted in the length of service
When accruing individual experience take into account:
work in the country with regular payment of insurance pension contributions;
work in another state that does not contradict legislation or one of the international treaties of the Russian Federation, with regular contributions to the Pension Fund.
How are the periods of work included in the years during which a person:
He was temporarily incapable of work and received social benefits;
served in the police, army, drug control agencies, fire safety, etc.,
looked after a small child (1.5 years, but a maximum of 6 years, when there are several children);
looked after a disabled child, an adult with a 1st disability group or older than 80 years of age;
temporarily did not work, registered at the labor exchange and received benefits;
conducted community service and received a salary for this;
moved to another locality, receiving a referral to a new job from the labor exchange;
was under arrest, was serving a prison term, but was unjustly convicted and subsequently fully rehabilitated;
He was removed from office at the time of the trial, in which he was accused unreasonably;
the wife was in the garrison with her husband, a soldier, provided that there was no work there (maximum 5 years);
stay abroad of the spouse of an embassy employee, trade representative (maximum 5 years);
engaged in operational investigative work.
How is seniority accrued?
The law provides for a strict procedure for calculating length of service. 1 month is equal to 30 calendar days; every 12 months they add up to the year of service.
Matching periods are not cumulative. For example, if a person worked on a regular basis in a company and was engaged in paid social activities or fulfilled copyright orders, then he should choose any option for enrollment in the experience.
The insurance period for periods of conducting an individual business, fulfilling individual orders, working in collective farms and other types of activities is taken into account solely on the basis of regular contributions to the Pension Fund.
If a person has received disability in the service and he is paid a corresponding allowance, then the years of work until the payment of this payment when applying for an insurance pension will not be counted.
When a person receives payment for the length of service, the years already taken into account when calculating it also do not count towards the length of service.
For seasonal workers, water transport employees, work experience is accrued so that every 12 calendar months they count a full year of work.
Artists, scientists, authors of various works, people involved in the execution of copyright orders, must pay insurance premiums of at least a fixed amount.
Then their experience will be as many years as pension contributions were made.
If the total amount of contributions paid for 12 months is less than a fixed amount, the length of service is calculated in proportion to the payments made. However, it must be at least 1 month old.
If a person worked and at the same time fulfilled the order under the contract, having paid a pension contribution from him, his insurance period calculated for this period cannot exceed 1 year, since different types of activities are not summarized.
How to confirm the experience
Since the pension insurance system is still relatively young, some Russians may have experience prior to their registration with the Pension Fund and receiving SNILS.
The fact of its presence in such cases is confirmed by a certificate issued at the previous place of work.
As soon as a person is registered in the PF system, information about his personal experience will be confirmed by individual accounting data.
There is also the possibility of confirming the length of service for the period prior to the introduction of pension insurance through witness testimony.
There should be at least two, and this is only possible if:
if the archival documentation is lost due to a fire, other natural disaster,
if the documents are lost, deliberately destroyed, excluding the fault or involvement of the employee.
The type of activity of a citizen by witnesses should not be confirmed, only an indication of the place of work and the time period is sufficient.
Now you know what insurance experience is, why you need it, how it is accrued.
The new law provides all the possibilities of accrual of labor and insurance experience for people who are forced to temporarily engage in various types of activities, raise children, take care of disabled people, accompany spouses on a long business trip, perform one-time tasks under contracts.
The main thing is to pay pension contributions in a timely manner, and then you can count on material support in old age from the state.